Capturing the airwaves: Russian disinfo 2020
2020 presidential race and fears of Russian interference to re-elect Trump -- PLUS, Russian propaganda broadcasts on airwaves in the Midwest...
Welcome back to another edition of the "From Russia With Mila" newsletter, where I cover Eastern Europe through the lens of journalism and the media industry. All the focus is now on the 2020 election with the US presidential race in full swing, and just like in 2016, the spread of disinformation is ramping up as well. Speaking of which — Russian propaganda has found a place out in the open on radio airwaves in Kansas City, Mo. I break all the latest down in today's newsletter.
Intel officials warn of Russian interference in 2020
The New York Times published an article on US lawmakers voicing their concerns about Russia meddling in the 2020 election to re-elect Trump after a Feb. 13 briefing by intelligence officials.
Intelligence officials warned House lawmakers last week that Russia was interfering in the 2020 campaign to try to get President Trump re-elected, five people familiar with the matter said, a disclosure to Congress that angered Mr. Trump, who complained that Democrats would use it against him. (NYT)
On Thursday, the US and key allies accused the same Russian group responsible for much of the 2016 election interference of a cyberattack on Georgia, taking out websites and TV broadcasts, according to the NYT. These experiments by Russian hackers and trolls — like the Facebook disinformation in Africa that I wrote about in a previous edition — have likely been in preparation for interference in the US presidential election in 2020.
---
Hackers and trolls have been prepping for this
This NYT article reports that, even though the four years since the last US presidential campaign has given American defenses ample time to improve, and Facebook keeps tabs on threats it now knows to look for, like "fake ads paid in rubles and self-proclaimed Texas secessionists logging in from St. Petersburg," Russian hacking efforts have improved as well.
"Our adversaries, including Russia, China, Iran and others, are persistent: They focus on our politics and try to take advantage of existing fissures and American sentiment, particularly if it may weaken us," said Shelby Pierson, who monitors election threats at the Office of the Director of National Intelligence. (NYT)
It is less likely that the primaries will face the kind of interference that is expected in the general election, according to the NYT: "The widespread expectation is that hackers, who may have only a single shot at exploiting a particular bug or vulnerability, will wait until the general election rather than risk wasting it on a primary."
---
Russian radio in Mo.? Meanwhile, in the Midwest…
All this talk of Russian disinformation and meddling in the 2020 presidential election — and look at what's happening in Missouri: Radio Sputnik, funded by the Russian government, started broadcasting on three Kansas City-area radio stations during prime time.
On a recent show, one host started by saying he was broadcasting "live from Washington, D.C., capital of the divided states of America." (NYT)
How did this happen?
Broadcasts started Jan. 1, after the owner of Alpine Broadcasting Corporation of Liberty, Mo., Peter Schartel, saw the financial benefit to airing this content. He told KCUR that money was tight, so he was drawn to the fact that "Radio Sputnik pays $30,000 a month to broadcast its programming in Washington, D.C." — twice what his whole budget was.
Schartel found Arnold Ferolito, the broker who negotiated the 2017 deal to broadcast Russian programming 24 hours a day in Washington, and made his pitch:

"We're right in the middle of the country. This would be a good test market." Ferolito agreed. (KCUR)
Photo of Peter Schartel by Barrett Emke for The New York Times
Sputnik's US talk radio "covers the political spectrum from right to left," the NYT reports, "but the constant backbeat is that America is damaged goods."
What has Sputnik been up to in the US?
One AM station broadcast round the clock and one FM station have already been broadcasting Sputnik in Washington for multiple years since the last presidential election. The NYT said that "public disclosure forms show that the Russian government is paying more than $2 million over three years, starting in December 2017, for the Washington broadcasts."
In Kansas City, the fee is $324,000 for three years, or $49.27 per hour, according to RM Broadcasting's Foreign Agents Registration Act filing. Mr. Schartel said he gets $27.50 of that hourly rate. (NYT)
RM Broadcasting is a firm in Florida that "hunts for airtime to sell to Rossiya Segodnya, the Russian state media organization behind Sputnik," according to the NYT. Rossiya Segodnya in English is Russia Today, which was created to challenge the West's global dominance on reporting news, and the propaganda broadcast by Sputnik aims to sow doubt in US institutions.
Last year a federal judge in Florida ruled against RM Broadcasting's owner, Arnold Ferolito, after he sued to prevent the Justice Department from forcing him to register as a foreign government agent. (Various news media organizations linked to Russia had already been ordered to register.) (NYT)
Sputnik broadcasts in 90 cities worldwide.
So what's being said on the Kansas City airwaves? And who is doing it?
Supporters of Kansas City's Sputnik deal argue that airing this content is providing listeners with important views they cannot get elsewhere, and some of the broadcasters used to be reporters at conservative media sites, such as Breitbart.
The morning show did a couple of segments on Kansas City barbecue and tried to make light of Russian influence by joking that Mr. Putin had ordered that the Kansas City Chiefs win the Super Bowl. (That was before the game, which the Chiefs won.) (NYT)
KCXL's website boasts "YOUR INFORMATION STATION" with an American flag banner, right above a long statement that says America used to be the country of freedom and opportunity but now looks down on traditional values: "…we bring you the truth. We tell you the things that the liberal media wont tell you."
Working through the news headlines on recent Sputnik broadcasts, the hosts found much to fault.

The impeachment of Mr. Trump is bad.

"The entire impeachment is a lie," said Lee Stranahan, a former Breitbart reporter and the right-wing co-host of Sputnik's morning show.

The American political system is bad.

Politics here is meant "to make sure that the masses of poor and working people don't have access to even the most essential things," said Sean Blackmon, a host of an evening program.

The American military presence in Iraq is bad.

United States forces should withdraw to allow Russia and China to rebuild Iraq and Syria, an Iraqi guest suggested.

Above all, the American press is beyond redemption.

"The wheels are coming off the establishment media," Mr. Stranahan said. That is the Greek chorus across Sputnik. (NYT)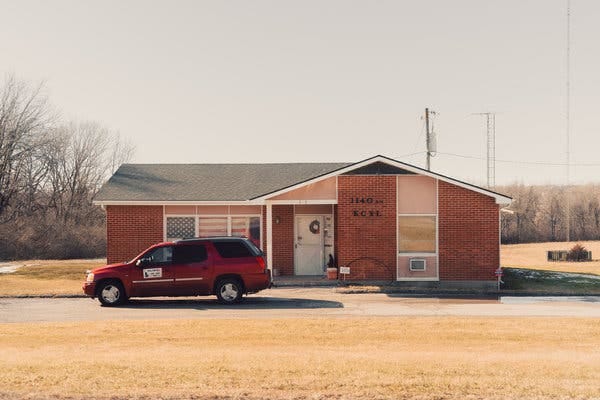 KCXL's office and one of the broadcast studios (Photos by Barrett Emke for The New York Times)
Targeting new markets outside of Washington airwaves in the Midwest adds to the fears of Russian election interference in 2020.
CBS News did a segment on this that you can watch and listen to for more information, and The Kansas City Star published an editorial urging listeners to beware of Radio Sputnik.
---
Ending on a different note…
Check out this interesting dispatch from Russia ⬇︎⬇︎⬇︎
🎠The Moscow Times: How North Korea's Leader Buys Purebred White Horses From Russia's Stud Farms
---
And that's all for this 2020 Russian disinformation edition. Reach out with any questions or comments, connect on Twitter for the latest, and stop back for more on media and Eastern Europe!
— Мила (Mila)