Mass opposition protests, internet blackout, opponents detained, journalists expelled
Welcome back to another edition of "From Russia With Mila." It has been a busy election season for Eastern Europe, with Russian President Putin having secured the vote in favor of constitutional amendments needed to run for more terms, incumbent Polish President Duda narrowly beating his opponent in the "slimmest presidential election victory since the end of communism" (BBC News), and Belarusian President Lukashenko — who has been in power for 26 years — declaring victory yet again in the widely contested August 9 presidential election.
Opposition candidates detained
The reelection campaign of President Alexander Lukashenko, who has been in power since 1994 and ran for a sixth term, was met with mass protests and international criticism (CNN).
Two candidates running against Lukashenko have been detained for months — YouTube blogger Sergei Tikhanovskiy since May, and former Belgazprombank chairman Viktor Babaryko since June. Babaryko was considered to be the main opposition to Lukashenko, with his campaign claiming to have received at least 450,000 signatures for approval of candidacy. Babaryko's girlfriend reportedly said in a social media post that he was being detained on "tax evasion charges," which Babaryko says are politically motivated (BELTA).
The Belarusian secret police force — the KGB — has been associated with suppressing free speech and opposition, and detaining activists and independent journalists. (CNN)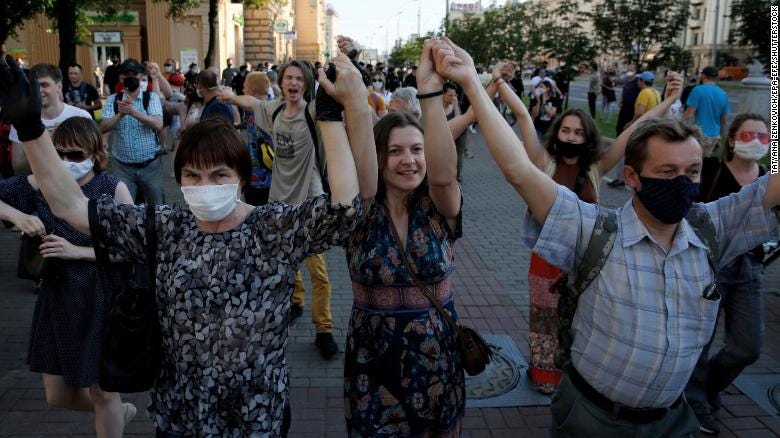 Journalists detained and expelled
More than a hundred activists and journalists were detained in the protests following the detainments of major opposition candidates, according to NGO Viasna. Lukashenko called the protests a foreign plot and said law enforcement "thwarted a Maidan," referencing the 2014 revolution in Ukraine that ousted the pro-Russian president.
"We managed to take some steps ahead of schedule and quash the large-scale plan to destabilize Belarus… We showed the true faces of the puppets we had here and puppeteers who sit outside Belarus," Lukashenko said (BELTA).
In the days before the election, three Ukrainian and Russian journalists for Current Time TV, a news outlet affiliated with Radio Free Europe/Radio Liberty, were detained while covering protests. After a few hours of being held, they were expelled and banned from reentering the country for 10 years (RFE/RL).
Wife of jailed candidate takes over, runs against Lukashenko
While Lukashenko claims to have won with 80.23% of the vote, candidate Svetlana Tikhanovskaya (an English tutor who ran after her husband, another candidate, was jailed in May) actually is believed to have received around 80% of the votes, according to monitoring organization Golos (CNN). According to her press secretary in a TV interview, Tikhanovskaya (who was given 9.9% of the vote) attempted to register a complaint with the Central Elections Committee. She was detained for seven hours. Upon release, Tikhanovskaya has since fled to Lithuania (BBC News).
Multiple countries — including the US — have condemned the elections, calling them unfair and not free, but Putin congratulated Lukashenko. The Kremlin said it hoped the results would lead to "further development of mutually beneficial Russian-Belarusian relations in all areas." (The Moscow Times)
Internet shuts down after polls close
Riots between protesters and police broke out August 9 after election polls closed, and mobile phone internet and access to social media shut down as well. Lukashenko denied the authorities are trying to shut down the internet, according to Reuters, and has blamed the outages on "foreign forces" trying to sow discord.
Twitter said it was seeing blockages of the social media site in Belarus after the election:
Protesters used limited access to the Telegram messenger app to organize protests and direct medical assistance to injured protesters. Additionally, the Belarusian Investigative Committee confirmed the death of a 25-year-old detained protester (The Moscow Times).
Alexander, 42, a protester in Minsk, said he had not read a news article or social media post in two days: "I can't see the news so I really don't know anything."

He said he went home on Monday evening thinking the protests in Minsk had ended, but across town, violent clashes were raging in several districts, with some protesters building barricades and police firing rubber bullets and stun grenades. (Reuters)
Lukashenko said the protesters are "people with a criminal past who are now unemployed" and told them to get jobs (UNIAN).
---
Reach out with any questions or comments, connect on Twitter for the latest, and stop back for more on media and Eastern Europe!
— Мила (Mila)